MAY 8, 2011 - MOTHER'S DAY - 1pm - STAND WITH US
Dear Standing Women Community,
May 8, 2011 marks the fifth year we are standing firm and together for the sake of
earth's children on what is Mother's Day in many countries.
This is no small thing that we do,
for we have tapped a wellspring of deep agreement in all sectors of society
and in every country in the world... around the children...
In these divisive times let us turn to one another and deeply appreciate
all the prayers, all the intentions, all the ways we step forward
for the sake of our children. In this we are One humanity.
Let us know, experience, and value our united stand. Let us truly shift
the currents of our planet as we hold dear earth's children and their future.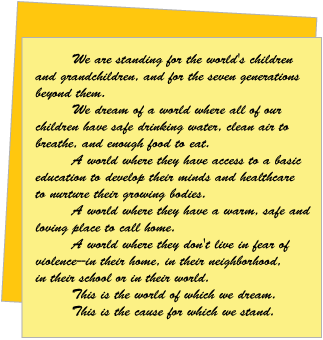 Please join us on May 8, 2011 at 1 pm local time
as we stand for a better world with 5 minutes of silence.
Read Sharon Mehdi's inspiring story in many languages and
register your standing at www.standingwomen.org, so that we may see before us
this shared intention of humanity's heart for its children.
Do it right now before you forget...
it may be the most important commitment you ever make.
Blessings on us all in these times,
The Standing Women Team

STAND WITH US
Tell us where you will stand CLICK HERE
Where others will be standing CLICK HERE